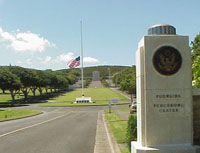 Craft, William P Jr
CWO 4 US NAVY s
Veteran service dates: 03/23/1944 - 01/01/1970
date of birth - 02/02/1917
date of death - 10/29/1994
date of interment : 09/26/1995
Buried at: Section U site 1308-A
NATIONAL MEMORIAL CEMETERY OF THE PACIFIC
277 Puowaina Drive, Honolulu, HI 96813

---
Yesterday Jim Chryst and I met here in Las Vegas to talk over the Buffalo reunion plans and Jim asked me what ever happened to the Bos'n -- and I said I didn't know even though we have searched for him many times... so today I went looking again.

It is with a sad heart that I tell you that thanks to the new search tool at the Veterans benefits & Services website I have found our beloved CWO4.

This was the finest man I have ever met, even to this day. We need to make a special tribute to Bos'n Craft at our Memorial Service in Buffalo. If any man can be called the soul of the USS Providence CLG6 - this man can. I would like to talk about ways that we can pay our respects.

Jim Cozine

---
Hi Jim:
Thanks for sending the email. I am sorry to hear about CWO Craft. He was sure a credit to the Navy and to the Providence. We will sure all miss him.

He was a great naval officer. Thanks again, see you in Buffalo.
All the best.
Vic Muzio

---
EMAILS FROM THE PAST

---
Subject:
Re: Prov roster
Date:
Tue, 11 May 1999 09:12:53 EDT
From:
BillMCLG6@aol.com
To:
samvilla@home.com
In a message dated 99-05-08 22:47:03 EDT, you write:
<< Bos'n Craft >>
there was one time in Kobe Japan we were on liberty.Quite a few of us
Boatswain's Mates and our leader (Bos'n Craft) were in this bar splicing the
main brace.Bos'n Craft made the remark that he was the badest SOB that ever
left Kentucky.Well my being a cocky young BM3 and being from Kentucky made
the mistake of telling him he hadn't proved that to me. Because I woke up
about five minutes later and him looking at me with a beer in his hand saying
this ones for you.Never questioned that old man again. That old man was like
a father to all us BM's and no one messed with us. If he ever came up to you
and said "I think you ought to stay on board a few days, weeks, ever how
long, we didn't question him. We just never looked for our liberty cards
until he gave it to us. He was pretty special.
Send some more on him later,
Bill McCubbin
---

---
Subject:
Your Great Web Page
Fri, 26 Feb 1999 18:21:34 -0500
From:
jimsuz@mindspring.com
To: <samvilla@home.com>
Sam,
Although we have not yet communicated, I felt I had to write you and let you
know what a great site you have created. Being an old Providence sailor, I
started at the beginning and clicked my way to the end. I alternated
between outright, side-splitting laughter to a lump in my throat the size of
a golf ball. The crowning touch, I thought, was the picture of Bosn Craft.
I loved that old guy. I worked with him at the forward refueling station,
which he was in charge of. Being an IC man, I was the sound-powered phone
talker who relayed to the tanker, whatever Bosn said. He sometimes said
things that I wouldn't repeat in front of most audiences. However, he would
go to great pains to listen to what I said, to be certain I was quoting him
verbatim. I always did quote him absolutely--I was afraid not too!
But he had a great sense of humor. Once, when things were going smoothly
during refueling, I was talking to the tanker, just BS'ing I think, and I
demoted Bosn Craft to Chief Craft. He heard what I said--I was
intentionally loud--and he turned to ream/straighten me out and saw me
smiling. He just grinned broadly and shook his head. Probably thinking,
"where do they get these guys." But he was a great guy and I admired and
respected him more than any officer aboard the Providence.
I did thirty-nine months aboard the ship during the years of '65 to '68.
Although not a career navy man, I remember my time aboard that vessel
fondly. It was good duty, indeed. The best friends of my life were begun
there. Although I haven't kept up with all the guys, not a day goes by that
I don't remember them.
Anyway, I just wanted to say "Great Job." Keep it up. I like to come down
to the computer, in the middle of the night, when my wife has turned in,
and log on to your web site. With beer in hand, I can sit and get as
nostalgic as I want. No one there to see me. Relive the old days and good
times of being a United States sailor aboard the USS Providence. My God!
What memories! Thanks, pal.
Jim Broyles
---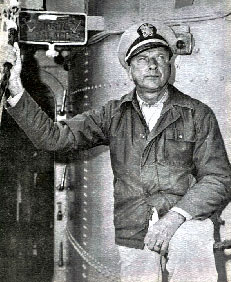 ---
Subject:
Re: [Fwd: Screw Damage Incident]
Date:
Mon, 3 Apr 2000 16:52:37 -0400 (EDT)
From:
Michael Matteson <MichaelM@lmssi.com>
To:
samvilla <samvilla@home.com>
Yo Sam,
I remember the desk incident although I only remember Prov. going into the
dry dock once in Yoko. That may have been the time, although we dinged a
screw on a log we backed down over either in Manila or Cebu. Maybe we were
able to do both repairs in the same docking.??
The desk incident reminds me of the time I had to replace the focus coil on
the final amplifier in the SPS-42 radar and when I was done I had to dispose
of the old coil. After I checked to make sure it was an odd cog stock no. I
trundled it back to the fantail and was going to just chuck it over the
stern, when I decided it would be more proper to slide it down the garbage
chute (remember it?). The damn thing went down about 2 feet and stuck
tight!! I had to go find some help and we got a chain fall out there and
hooked it to the hand rail and nearly pulled the garbage chute loose from
it's mountings before we retreived the focus coil. Then I just chucked it
over the rail per my original plan. The reason I was so cautious the first
time was that Bos'n Craft caught me emptying a bucket of dirty swab water
over the side one time and I got an ass chewing I'll never forget!!
Mike Matteson
---
Emails TODAY

---
From: APilger <apilger@comcast.net> Save Address | Headers
To : <sam@star77.com>
CC :
Date : Thu, 27 May 2004 15:03:15 -0400
Subject : Re: In Memory: CWO4 Bos'n Craft

Afternoon Sam....

As a "Flag Puke" with C7F, I had to admire the Bo'sun. You always knew where you stood with him, never any doubt. I can recall the Bo'sun joining the Marines on top of the missle house for their routine morning exercises. When it came to Push Ups, he got two milk crates and did his from them and went all the way to the deck. Never a peep out of the "mud soldiers about his physical abilities.

He could be hard on you when it was warranted but at the same time, he was fair.

The Navy lost a great officer and gentleman when Bo'sun Craft "Passed Over The Bar" to that great saloon in the sky. I would be willing to bet he is holding court now and giving advise to God on how to "square away" heaven.

AC
---
Is their any news as to a funeral. When did he pass? I new him from the ship very well please give my regards to the family, if possible.

Bill Kelly
---

Sam
Thanks so much for the website tribute to the Bos'n - it's great.... As
I read it I noticed I made a mistake and used the wrong spelling of
Soul - ( I put in sole - big boo boo ) - can you change the spelling
for me? - Thanks
Jim C

---
Jim,
Correction has been made.
Craft may have been aboard Providence for over 12 years. I know he was a Plank Owner in 1959.
He helped a lot of young sailors become men.
Sam

---
From: Jim Cozine <jimcozine@earthlink.net> Save Address | Headers
To : <sam@star77.com>
CC :
Date : Thu, 27 May 2004 16:50:54 -0700
Subject : Re: In Memory: CWO4 Bos'n Craft
-----------------------------------------------------------------------

Thanks Sam - I didn't want to offend anyone with my slip up..
he sure helped me as a young 21 yr old Ensign -- Jim C

---
From: "Bill McCubbin" <billmclg6@insightbb.com> Save Address | Headers
To : <sam@star77.com>
CC :
Date : Thu, 27 May 2004 13:26:03 -0400
Subject : Re: In Memory: CWO4 Bos'n Craft

Got to tell you it's a sad day and a glad day. Hate to hear of his death,
but now we can finally lay him to rest.
Bill

---
From: "voelker" <voelker@cox.net> Save Address | Headers
To : <sam@star77.com>
CC :
Date : Thu, 27 May 2004 21:03:55 -0400
Subject : In Memory: CWO4 Bos'n Craft


I would like to add a special comment regarding the memory of Bo's'n Craft. I was in charge of the rewind shop and one of our tasks was to rewind motors. Even tho we had a small exhaust fan and the fumes from the varnish baking would turn the white paint yellow.
Seeing as how I worked in the missile house and know that they used a special epoxy white paint, I tried to get some to paint the electrical shop, couldn't get any as it was for the missile house only.
I spoke with the Bo's'n and he saw to it that I got the epoxy white paint.
The following material inspection the XO was with the Bo' s'n and the XO noticed that this was epoxy paint. The XO asked the Bo's'n how this happened. Bo's'n Craft spoke up and told the XO that several cans had been missed marked. The Bo's'n winked to me and never was another word said.
He was indeed a special MAN!
Rodney A Voelker, NCC retired, former EM1 voelker@cox.net


---